Ever felt like you've lost your way, or felt off-kilter but couldn't pin-point why or how you got there?  That's me and I just hate that feeling.  I have found that making time for contemplation and communion with God helps me be more grounded and centered so I don't lose my way.
It is called spiritual resilience and it can be developed (read here). Spiritual resilience is a term recognized even by the U.S. military (read here).  Spiritual resilience is not necessarily religious, but yes, having a religious basis helps to give one's spirituality a framework.  Spirituality and spiritual resilience are like the muscles that give us strength; and religion is like the skeleton that holds up our muscles.  Having one without the other is difficult, but both together will complement one another.
Without this grounding or spiritual resilience, we become more vulnerable to burning out, anger, envy, bitterness, lack of self-control when stressed, and other negative emotions. The advantages of spiritual resilience shines through at certain stressful times in our lives, like being on military operations, going through divorce, losing a job or a loved one. Our ability to be resilience becomes more apparent to us when we go through tough times.
People who are less vulnerable to these things under stress tend to have a more developed spirituality. People practice spirituality in different ways–either religious or not religious. Some might be Christian monks and nuns. Some might be ordinary Catholics or evangelical Christians. I'm not saying we have to become monks, nuns or holy people to be spiritual. Almost every major religion have their sets of spiritual disciplines that followers can practice in order to center themselves and develop spiritual resilience. These are virtues. As human beings, there might be times in our lives when we seek to be more spiritually-grounded. We innately know there is something greater than ourselves that we can turn to. A belief in a higher power becomes our strength.
Every so often, any person can veer off the virtuous path, lose hope, lose our morals, or lose one's desire to live. We are all fallen human beings who fail at one point or another.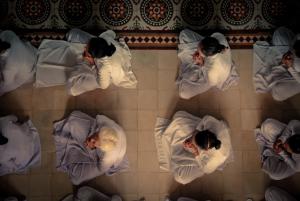 The scriptures speak on the wisdom of patience and long-suffering, but how do we develop this spiritual character? Through practice and discipline. It's like learning to ride a bicycle or an instrument.
Personally, for me there are times when I feel I might need to be more spiritually grounded and return to practicing some spiritual disciplines again. Some people find themselves returning to church in order to find themselves. If that is how you feel, then go for it.
If within our Christian disciplines, we can deepen our spirituality, we might gain more self-control of our personal lives and become better people. Without a spirituality and spiritual resilience, even the best of people can lose our ways and lose our balance. A deeper spirituality can help individuals become more centered and spiritually in-tune with God, with themselves, and with others. It be time to return to a closer communion with God.