I will share some very personal and intimate spiritual encounters in how I came to faith and into vocational ministry. I did not think I would ever do this so publicly on my blog and I don't know why I'm doing this now… but here it goes.
As a teenager, I was raised an evangelical and attended a small church. I remember wondering to myself in Sunday school class if God was real. The teacher was speaking like God was personal and real; she sounded authentic.  I had not yet experienced God for myself in a personal way.  I said to myself that if God was real, I needed to know God more.
Was it a fate or calling?  That day came.  It was at a Pentecostal summer teen camp. I was about 15 years old.  I remember distinctly being filled with the Holy Spirit.  This was my coming to faith in Christ.  This cannot be fully explained or understood using words.  It was a spiritual experience–an existential moment that I will never forget.  God poured his Spirit into this teenage boy.
At summer camp, I saw teenagers on their knees.  I hadn't seen that before.  They were praying.   Seriously praying.  There was no kidding around with them.  They weren't looking down at their hand-held games and pretending to pray; no, they were praying like serious business, like God was real to them.  This caught my attention and interest.  In church, adults were the ones who did the praying, so it was my first time seeing young people praying this–and praying together in a large group.  A totally new thing to me.
It caused me to wonder and ponder if I was missing something in my life.  I remember telling God:
"God, if you are real, please make yourself real to me.  I want to know that you are real…that you really exist…and that you care about me."
I looked up to see if anyone stopped praying; nobody stopped praying.  So I continued to pray and asked God to show me if He was real.  Give me sign that you want to make yourself known to me in a personal way.
Then I began to feel a tingling sensation come over my body. It was like 10,000 volts of electricity. This sensation started in my hands.  It spread to my arms, then covered my entire body.  I was covered with God's presence and filled to the brim.  It was an electrifying experience–literally.  How can I describe this?  It felt like a warm sensation, like as if I was set on fire.  I now knew that Acts 2 was real. (similar initial experience like this priest)
The summer camp speaker, a pastor, spoke prophetically and authoritatively–spiritually speaking.  He told us, "God is here in this place and is making himself real to you.  He can make himself known to you in a variety of ways."  That was God's way of making himself known to me that left me without any doubt about his existence in this universe, and in my life.
I realized then, on the spot, that God was real.  No more doubts.  The Holy Spirit filled me with his love and presence.  I was caught by surprise and started weeping and sobbing with tears of joy.  I don't cry easily but it was the Spirit moving within in a very powerful way that was "out of this world."  I was oblivious to everything around me and didn't care if anyone saw me weeping.  In that moment in time, it was a holy moment; it was God and me together.  I told God with a new found love that I would serve him forever.
God gifted me with a real presence that day.  He poured faith into me.  Where I once questioned God's existence, I no longer had doubts concerning His existence. God became very personal and tangible to me.   I also realized the severity of my own sins, and experienced God's love and kindness toward me, and of his mercy and forgiveness.
I had learned all this stuff in church and Sunday school but it had never really sunk in until that day.  God became real to me through a real revelation of God, in that holy moment at church teen camp.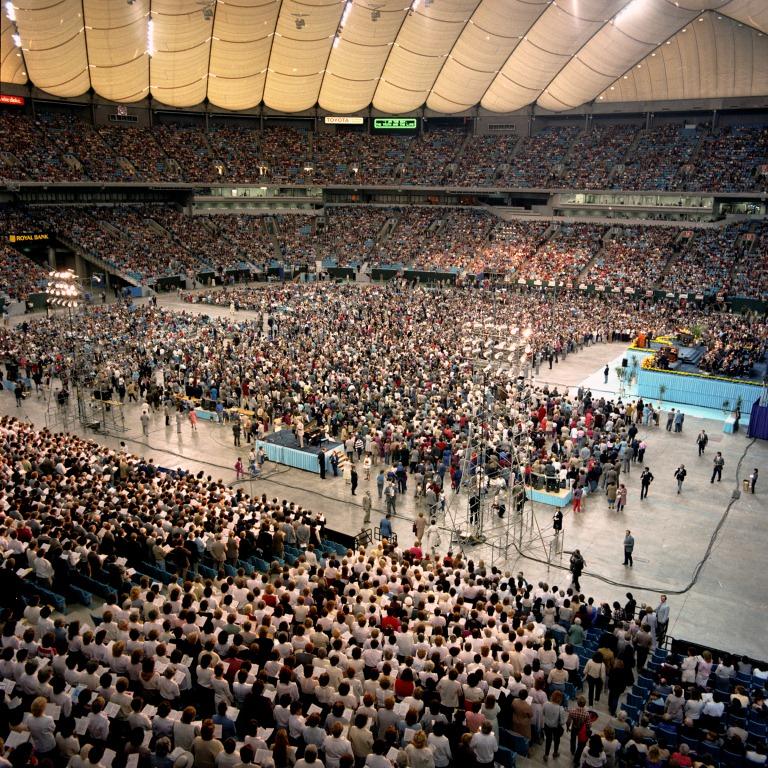 Another experience. I was 16 years old when evangelist Rev. Billy Graham came for a series of evangelistic meetings. Each night, he would give an invitation to come down to the front–an old-fashioned evangelical altar call.  I still remember Rev Graham quoting from Matt 10:33, "But whoever denies Me before men, I will also deny him before My Father who is in heaven."
That was enough to motivate me to want to acknowledge Jesus in front of thousands in the stadium.  I decided to publicly acknowledge Christ. Upon mustering some courage, I walked down to the front.  It was both a 'confession of faith' and a personal commitment to walk with Christ.
Later, as an undergraduate college student, I attended a Christian & Missionary Alliance church and made a personal decision to get baptized.   I remained engaged in Christian student clubs on campus (e.g., IVCF, Power to Change, etc.).  As a young adult, I continued worshiping at various denominational or non-denominational community churches.
After finishing grad studies, I packed my things and moved to the big city. I lived there for a number of years and found work in the financial field.
During this time, God led me into lay ministry by using my spare time to serve as a lay-pastoral leader in a small local Pentecostal church. I did this for almost one year and did not have any expectation of ever being called to ministry.  This experience gave me a taste of what pastoral ministry was going to be like.
I began attending a large charismatic church for a few years.  It expanded my experience of worship and my understanding of how the Holy Spirit worked in people, in the church and in the world.  Worship became more intimate for me. In that church, I felt I could almost touch the presence of God. Years later, my experience of worship would be shaped by structured worship with liturgy and comprehensive theology.  This charismatic experience played a huge part in shaping my theology of the Holy Spirit.
It was in that period of time I began to sense and contemplate God's calling into full-time ministry.  My experience as a volunteer lay minister gave me an idea of what pastoral ministry could be like.  I began to reassess my life and pondered the idea that if I could do anything for the rest of my life, and money wasn't a factor, what would I want to do?  My answer: pastoral ministry.
I began to explore the idea of pursuing some theological education in order to prepare myself for the challenges of vocational ministry.  I returned home and began inquiring with various seminaries.
My parents were attending a small bible study started by a local Lutheran seminarian and I visited the open house at a small Lutheran seminary.
I began praying that God would show me the way.  One night, I had a dream.  In this dream, a white dove was perched on top of the letters 'LTS'. This bird flew off, swirled around a few times, then very quickly, landed under my left arm. It jarred me awake. Both my legs shot up and I fully awoke.
I pondered: "Was this a nightmare or a sign from God? If this was just a nightmare, I have nothing to worry about.  But if this was a sign from God, I had better pay attention."
That very next morning, I decided to visit the seminary a second time.  I had some questions to ask. I spoke with one fine professor who cared about ministry (who has now returned to parish ministry).  After our conversation, he encouraged me to apply and see where it would take me.
Throughout seminary and my discernment process, I had some enlightened 'aha' moments and also countless moments of doubt. I asked myself, "Do I belong here? Why don't I just leave? I don't know anything about liturgy or theology."
I was not a born and bred Lutheran.  Most Lutherans are just born into the church and cannot recall a specific point in time when they had an existential spiritual experience in coming to faith.
I believe that God still gives people signs. God works in different ways in different people.  Some receive subtle signs.  Some are lightening-struck.  God's calling comes to each of us in different ways and will be different for you.
For me personally, this sign of a white dove became a constant reminder of God's calling to me. It kept me from veering off the path whenever I had doubts about whether to stay in seminary.
The rest is now history.  I thank the Lord for his direction, and for the guidance I received from God's servants. Later, I would serve in several Lutheran congregations and Baptist congregations.  Today, I continue in my vocation serving as a chaplain. My experience, theology, and approach to ministry has expanded and grown in ways I never expected.